Schlossberger
A Swiss cheesemaker who provides a fantastic range of cow's milk cheese; We bought the following: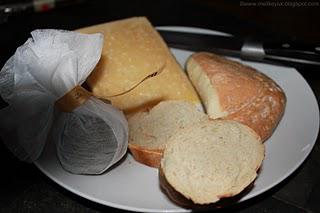 Left to Right: Belp Knoller ,Cironé and Abe Rot
Cironé - A 24 month old hard cheese. A cross between Emmental and Parmesan with salt crystals and an after taste of alcohol, almost like a cognac.
Abe rot or "Evening Red" - A strong smelling, soft, washed rind cheese. Similar to Epoisses or Munster
Belper Knolle - Made from milk from Belp cows, locally grown garlic and Himalyan salt. Rolled into balls and dipped in pepper. It has truffle-like qualities insofar as just a light sprinkle of it grated over pasta or risotto is sufficient to benefit from the powerful taste.
Specifications
Kaassoort: Harde kaas
Melksoort: Paardenkaas
Verwerkt: Niet gepasteuriseerd
Vetgehalte: 45%
Seizoen: Het gehele jaar

Toevoeging: